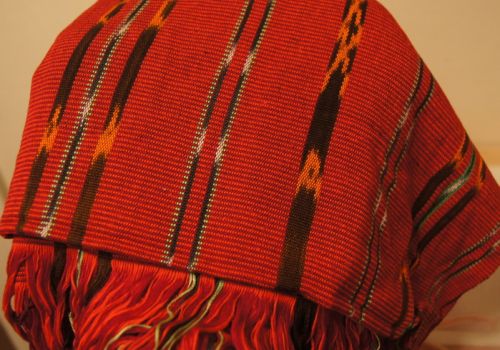 Posted today on my other project, Daily Beeswax, we're flashing back to the lovely location of our first Ikat purchase:
That place looks fake, right?
Well, fake it is not. It's a village on the Indonesian island of Flores. We were there in late August 2009, four months into our recent round the world tour. M brought us there to climb an extinct volcano. I appeased him by huffing and puffing my way up and down Inirie, not an easy task – believe me. In exchange, we spent our recuperation day hopping around villages like the one you see above, shopping for ikat. This was the first of many little Indonesian villages we bought ikat from. In retrospect, it was by far the most memorable.
This is how ikat is sold in this part of the world. The red piece hanging second from the left was my ultimate choice but looking at the lovely work hanging there, I wonder why I didn't buy it all.
Nineteen months later, I hold this beautiful hand-woven Indonesian Ikat in my hand in San Francisco. It has traveled across the world, shipped thousands of miles from those cute Indonesian smiles, the picturesque village and that kickass volcano. It's been living in our lockers, waiting to be put to some use. Looking back at these photos, I kick myself that it's been living in obscurity for so long. It deserves to be apart of our daily life.
After much deliberation, I've decided to make four pillows from it for the couch in our salon. It will hurt my heart to cut it up, but I can't find another use of this lovely cloth. So cut I must.
This weekend's project: turn our memory of Flores, Indonesia into tactile home decor (and try not to get too weepy when cutting the ikat).